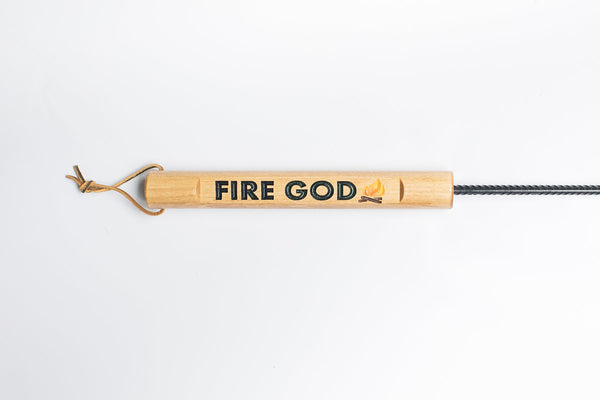 Fire God Outdoor Fire Pit Poker
This outdoor fire pit poker suits that glorified 'God' of the fire everyone knows. FIRE GOD is painted black with GOD highlighted with a touch of glitter. Also engraved is clip art of a mini burning fire.
IMPORTANT NOTE: Please allow 5-7 business days for product production prior to the shipping method you choose at checkout.
Brand:  Ame High®
Origin:  Wisconsin, USA
Overall Dimensions:  48" long
Weight:  2 lbs.
Handle:

Engraved/ burnt/ distressed (varies on product)
Stain:  golden oak or dark walnut
3 coats of outdoor spar-urethane

Poker Rod: 

3/8" 60 grade steel
pointed tips
welded hook approx. 3" from bottom
primer, Rustoleum heat paint, outdoor gloss paint for shine

Additions:

leather strap for storing
rubber end caps for consumer protection

Ame High backs their products by a 1-year manufacturer warranty