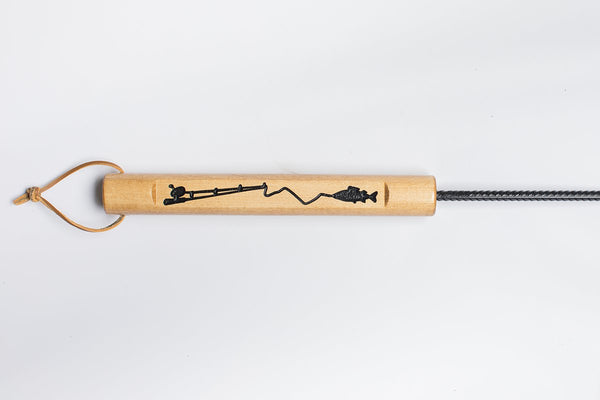 Fishing Theme Outdoor Fire Pit Poker
Our fishing theme outdoor fire pit poker is the perfect addition for the outdoorsman or family in your life. This fire poker is sure to be a conversation piece leading to great fishing stories (tales) told while sitting around the campfire. The design includes a fishing rod and fish engraved and painted black.
IMPORTANT NOTE: Please allow 5-7 business days for product production prior to the shipping method you choose at checkout.
Brand:  Ame High®
Origin:  Wisconsin, USA
Overall Dimensions:  48" long
Weight:  2 lbs.
Handle:

Engraved/ burnt/ distressed (varies on product)
Stain:  golden oak or dark walnut
3 coats of outdoor spar-urethane

Poker Rod: 

3/8" 60 grade steel
pointed tips
welded hook approx. 3" from bottom
primer, Rustoleum heat paint, outdoor gloss paint for shine

Additions:

leather strap for storing
rubber end caps for consumer protection

Ame High backs their products by a 1-year manufacturer warranty